"Waiting On" Wednesday is a weekly event, hosted here, that spotlights upcoming releases that we're eagerly anticipating.
This week's pre-publication "can't-wait-to-read" selection is: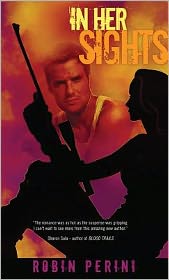 In Her Sights
by Robin Perini
Publication Date: November 29
SWAT Team Sniper Jasmine "Jazz" Parker can thread the eye of a needle with a bullet. As the only female sniper in the state of Colorado, Jazz is unique--for more than her extraordinary marksmanship skills and cool head. Jazz Parker and her weapon defend the helpless by exacting swift and uncompromising justice. Not bad for the daughter of the town whore.
After growing up on the seedy side of town, Jazz believed when she'd changed her name and her life at fifteen, she'd buried her past. Twelve years later, she even drove away the one man she believed she could love—ex-Army Ranger Luke Montgomery—to protect her secret.
Then, in a fleeting second, the time it takes for one clean shot, one perfect hit, to save the life of the Governor's daughter, Jazz's world begins to crumble around her. Her past and her present now threaten to destroy the life she so carefully constructed for herself. Her face and name have been splashed across the front page and her past has reawakened with a vengeance. A vicious enemy is bent on destroying Jazz's life, forcing her to turn to the one man she can never have in order to stop a killer before she and everyone she cares about pay with their lives.